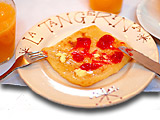 Breakfasts are of the simple, Moroccan variety and include: Eggs, freshly baked semi-leavened bread accompanied by jam, cheese and a selection of seasonal fruits. The Orange juice is freshly squeezed and the freshly ground coffee is excellent.

Breakfast is served in the family sized dining room or on the roof terrace with panoramic views across the straights of Gibraltar...the perfect way to start the day.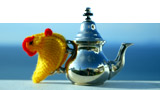 Afternoon Tea
After a hard days sight-seeing or bargaining in the souks what better way to relax than with a traditional Moroccan tea, we offer a delicious selection of home baked cakes and traditional pastries.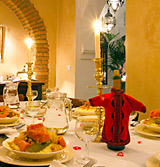 Dinner at LaTangerina is a more traditional, home cooked, family type of experience. Evening meals might kick off with a soup – harira – followed by a lamb, chicken or beef tagine or perhaps Farida's mother's homemade pastilla. There will be a fresh fruit salad or oranges with cinnamon for desert and coffee is included.
We only prepare on order, so please reserve in advance.