Details

Created: 25 January 2018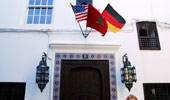 In the heart of the Kasbah on the highest peak of the Medina of Tangier with panoramic views across the straits of Gibraltar you will find a little gem .... LaTangerina.
Lovingly restored by it's owners Jürgen and Farida, LaTangerina is a tribute to their good taste and to the architecture and style of the European colonial period.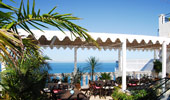 The 10 rooms are layed out over 4 floors around a central enclosed courtyard with a truly inspirational roof terrace offering views of the old Medina and the straights of Gibraltar that should make everyone's photo album.

LaTangerina has a real feeling of inner sanctum yet you are just yards from the souk and a short walk from the port and seafront.
A host of sensitive, decorative features throughout the house – cut flowers, original artwork, family photos and portraits – help create a really intimate mood.
A warm welcome are assured.